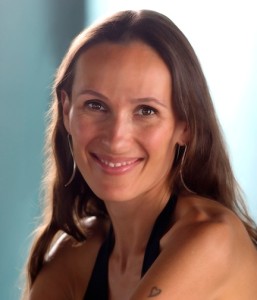 Corina Logghe is a Journey Dance facilitator, Nia Blue Belt, Mother, Artist and Designer. 
While never learning to crawl as a baby, Corina was diagnosed in grade school with learning disabilities and always felt rather ungraceful and out of place. She started dancing 18 years ago, slowly discovering rhythm and form. When Nia graced her doorstep in 2004, Corina experienced a distinct shift and sense of settling into body and mind. Discovering the cross body Nia forms helped to connect the hemispheres of the brain, it was a sensation of coming home. 2007 brought her Nia white Belt Training, with one of Studio Nia Santa Fe's original founders Holly Curtis. Corina taught Nia for 4 years and has been part of the studio since its inception.
JourneyDance arrived unexpectedly upon the scene, from a deep call to share more of her personal practices and passions. This yearning was to bring music, dancing, ritual, and a sense of tribe together in a healing way. Corina considers JourneyDance a rich offering to the divine and the mundane, a humble way to care for the wild and sensitive soul that inhabits each of us and a way to have a lot fun shaking it up and letting down our hair with our fellow dancers.
With deep love for both forms, Corina considers JourneyDance and Nia close friends as they support and inform each other in a beautiful way.
Corina is a native New Mexican and resides with her 14 yr old son, north of Santa Fe, on the land she played on as a child.