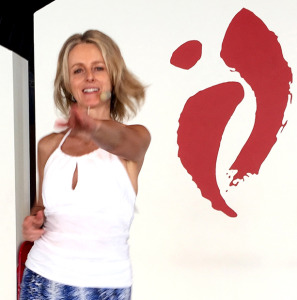 Nia Blue Belt, Nia FreeDance, & Move IT Instructor

Move and Be Moved!
I experienced my first Nia class in San Rafael, California—the birthplace of Nia—in 1993. By the end of that hour with France-Laude I knew I had discovered something wonderful. And I knew I wanted to share it with others. After practicing and teaching intermittently for over 20 years, Nia continues to be a powerful tool for me to embody self-awareness, joy, sensation, understanding, inspiration, power and purpose. It has helped me heal physical and emotional conditions, empowered me from the inside out, and continues to inspire me to a deeper understanding of the body's way and all the gifts it has to offer. Sharing the Nia Technique is one of the great joys of my life; I love seeing the effect it has on people, and there is always something new to learn and experience. I see every class as a journey, with the opportunity to become more in tune with that which deeply moves us. My personal Nia motto is Move and Be moved.
---
Elsa was born in the United States and spent her formative years in England. Her
vocation is Inspired Communication, a thread that has woven through her various
careers in marketing, design, publishing, photography, art-making, teaching,
consulting and coaching. She has been interested in the healing and dance arts
since she can remember, and has studied nutrition, reflexology, the therapeutic
application of essential oils, the Butoh dance technique, Chi Gong, Yoga, and
Modern, African, Ballroom, Flamenco, and Tap dance. You can learn more about
Elsa by clicking here.
Thursday 5:45pm Nia FreeDance • Friday 7:30am Classic Nia