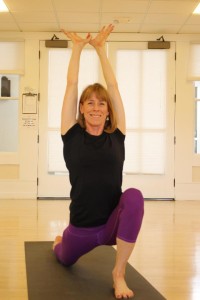 Experience the joy of yoga through movement to music. See how yoga can help you get stronger, become more balanced and increase your flexibility. With 12 years teaching experience, Corinne will help you know the difference between stretch and strain, using your own body's wisdom.  
If you have sports injuries, learn poses to balance out your sides, left and right, front and back.
Yoga can be fun, freeing and make a difference in your life!
Corinne Hodges recently moved to Santa Fe from the Midwest, where she practiced yoga for 20 years. Corinne received her teacher training, Level One and Two, from Yogaview Chicago. She has taught in fitness centers in the
Chicago area and Northern Indiana, including Equinox Fitness. In addition to Iyengar style classes, she has taught Wall Yoga, Yogalignment,
Yogalates and Dudes Yoga. She loves to share the benefits of yoga and how it can help heal the body, mind and spirit.
Tuesday & Thursday 10:30-11:45pm