with Debbie Rosas, Co-creator of Nia
Start: Saturday, May 25, 2019 – 12:00 pm
End: Sunday, May 26, 2019 – 7:00 pm                                                                          $300 Register here
Discover all new realms of the Nia "Body, Mind, and Spirit" ideology. Over two days explore the evolution of Nia through conversation, movement and thought to rediscover why and how Nia elegantly provides self-help, self-healing, fitness, health, power, and beauty by creatively uniting the body's neurology, the mind, emotions and the unique spirit of every individual.
Get ready to explore and learn in a most joyous environment, the—
· Evolution of Nia's movement, language, science, philosophy, music, and The Body's Way anatomy tools
· Evolution of developing strong community through cooperative leadership 
· Evolution of self as a Nia teacher and somatic educator
· Art of somatic referencing to enhance learning, teaching, and communication 
· Latest Nia tools and technology to make learning easy and efficient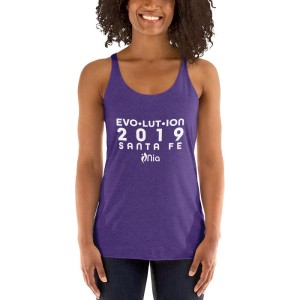 Purchase a Santa Fe Nia Evolution shirt!