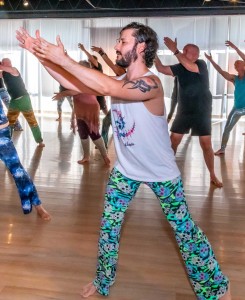 AN INTRODUCTION TO CONSCIOUS DANCE
with David Anthony
Saturday, July 20, 1-3:30pm, $20
If you have never taken a Nia FreeDance class and want to know the basics of this conscious dance practice, this workshop is for you! Do you ask yourself "How do I move if the teacher is not telling me what to do?" There is an answer and it is inside of you. This body centered workshop, through the language of Nia, will help you develop skills to move as your authentic self. Together, we will explore the fundamentals of movement to music that will encourage the creation of your unique dance.
David is a Nia Blue Belt and FreeDance facilitator. With 15 years
experience in various forms of dance arts and martial arts, David has the philosophy that movement is therapy for the body, mind, and soul.